Christmas Showcase
Friday, November 11, 2022 9:00 AM - Saturday, November 12, 2022 5:00 PM (CST)
Description
Common Goods invites you to join them on Friday, November 11th, and Saturday, November 12th from 9 am until 5 pm for their first annual Christmas Showcase. During the Christmas Showcase, customers will enjoy refreshments, Christmas music, and all-new holiday displays.
Pick up a Christmas Passport (in Baxter, Crosslake, or Crosby) and be entered to win a $100 Common Goods Gift Certificate after visiting all three stores during the 2-day event.
Owned by Bridges of Hope, Common Goods is a trendy thrift store for the community-minded shopper. Common Goods offers high-quality goods at reasonable prices, including clothing, fashion accessories, home decor, and furniture pieces. Profits from the stores support Bridges of Hope's work in Crow Wing County and surrounding communities.
Bridges of Hope has been serving households in the Lakes Area for 20 years. Bridges of Hope is fundamentally a safety net that provides additional support to empower people, bridge gaps, and connect individuals and families to resources and services through collaborative partnerships and coordination of resources to promote stronger, healthier families.
In preparation for the Christmas Showcase, Common Goods locations will be closing at 2 pm on Thursday, November 10.
More information about the Common Goods Christmas Showcase can be found on the Common Goods Facebook page.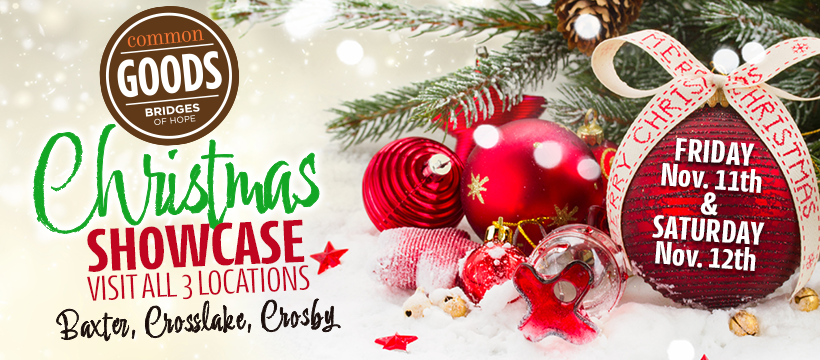 Images
Friday, November 11, 2022 9:00 AM - Saturday, November 12, 2022 5:00 PM (CST)
Friday, November 11th, 9:00 AM - 5:00 PM
Saturday, November 12th, 9:00 AM-5:00 PM
Categories
Holiday Events
Community Events
Brainerd Lakes Chamber Event
Area Events